Welcome to 2022
Lets hope this year is better than the previous 2 years and Covid allows us to get back to normal, I will keep the bowler below and lets hope it comes true.
New Fixture added 30/08/22
Make a note in your diaries, we are going to play Willian in a friendly with a 1430 kick off. They are trying to raise 9 players. I will send out an email later asking for availability. If i get to many players wishing to play i will do a draw to finalise the team. They have promised us tea and cakes ! Yum Yum !
Game v Buntingford 08/08/22
An away game but with Cottered being closed we were offered some good advice on how to get there from John Wiggs and Robin. Today's Captain was Lynne so we had a chance of victory as it wasn't me ! I might have overestimated the time to get there as i arrived at 1315, so i had time for a coffee first in the very pretty town. Onto the game itself. Probably the biggest audience we have had this year as a care home had brought there guests out for the afternoon. For those who haven't been to Buntingford at the far end of the green is the hedge, but not any old hedge, it is cut into the shapes of the 7 dwarfs, and near the clubhouse is a hedge cut into the shapes of Adam & Eve. Very Clever. At the halfway stage we were leading 32-21 as we withdrew to the clubhouse for our tea and biscuits. The care home came in with us and they enjoyed a scone and fresh cream tea. Excellent service on Buntingfords part. Now it was very hot today so each rink was given the option of only playing 15, which most rinks accepted. The Tea must have inspired us as we went on to win 61-40.
Game v Fairfield 04/08/22
The Humid bit had gone from the previous day but it was very hot but with an occasional cloud to keep you cool. Now i was the captain today so you've guessed we lost. At Half time we were losing 23-34 so surely a comeback was possible. However for the second day running we were treated to an amazing half time , this time with a scone and cream tea. Lovely ! It didn't inspire us though as we went on to lose 41-65.
Game v Datchworth 03/08/22
On a cloudy but hot and humid day we arrived at Datchworth under the captaincy of Paul, His team selection seemed to work as we went in at half time winning 42-19. What follows next is that they supplied some absolutely superb home made cakes which were really enjoyed by one and all. This seemed to inspire us as we carried on with our winning ways and ended up winning 79-51. They had a bar as well so a nice drink afterwards with a very friendly team.
Harold Hardy for 2022
The draw for this years Harold Hardy has taken place, go to the competitions page to see it!
Next Social Event
Our Chairman and his friends put on this show so get your tickets NOW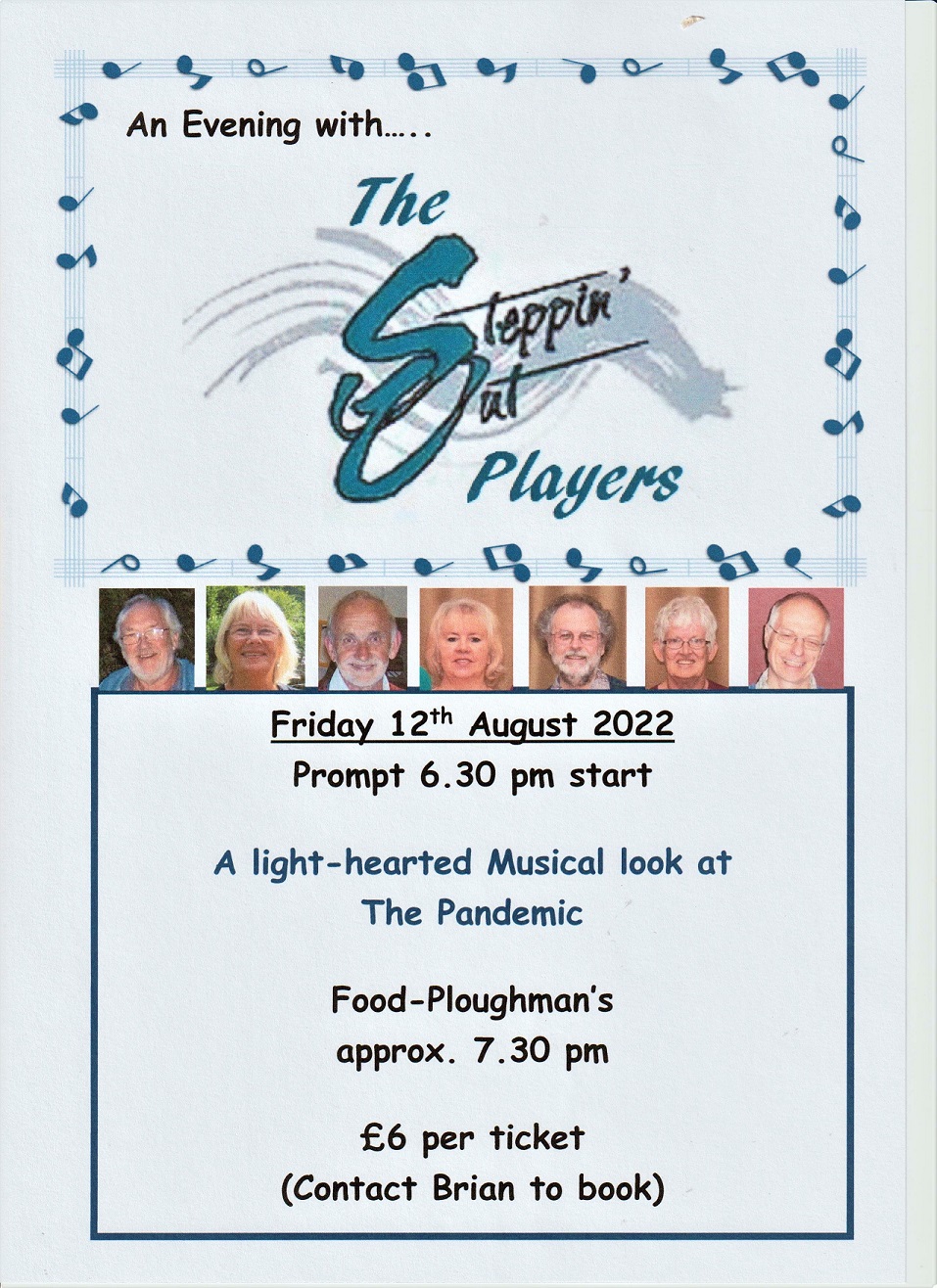 Fish and Chips Social
The Fish and Chip email has been sent so send your replies to Paul !
Dates for your Diaies
| | |
| --- | --- |
| Tues 16th August at 1800 | Fish & Chip Supper |
| Sat 3rd September at 1000 | Finals Day |
| Friday 23rd September at 1030 | Chairman's Day |
Game v Steeple Morden 30/07/22
On a nice day for bowls we visited Steeple Morden but we were a bit short of 12 with only 10 available, so i was dropped to make it a 3 rink game of 9 players. Under the captaincy of Robin it sounds like a close game but we finished up the victors, winning 49-44.
Game v Stevenage 27/07/22
Well the weather was overcast but a nice day to play bowls. 4 Rinks today under the Captaincy of Lynne, At the Halfway stage when we stopped for tea we were winning by 5 shots , A few drops of Rain were falling but after Tea the rain held off and we were able to complete the game. Robins team were losing by 9-2 at the half way stage but pulled of a great recovery to win 16-15. This along with the other rinks scores meant we triumphed on three rinks and ended up winning 67-56.
Game v Holwell 20/07/22
I have spoken to there Captain and provided the waether (yes worst spell of weather ever) cools down as predicted then the game will go ahead. If it still overly hot we will reduce the number of ends.
Well the whether had cooled down so was game on after the confirmation from Holwell that they could only field 9 players. We confirmed we had 9 so all ok. On arrival they said they were one short so i suggested two rinks 3x3 and one rink 2v3. There Captain looked at me and said that that doesn't make 11 players. So after a while i realised that he was one short of 12 players. I explained that we only had 9 so he managed to get two of his players not to Play.
Onto the game itself and what a hospitibal bunch the Holwell crowd were, making us feel very welcome The weather was overcast to start so near perfect conditions for bowls however after about 7 ends the sun came out and it became extremely hot. However tea was 3 ends away (after 10) so we retired for the tea and Len won the raffle again, he won at Shepalbury as well so on a hot streak.
We were losing by 7 at the halfway stage. After tea the sun had retreated again so back to being pleasant but the tea didn't do us any good as we ended up losing 44-63. But a very enjoyable afternoon thanks to Holwell.
Game v Melbourne 18/07/22
Game postponed due to Heat
Game v Letchworth 13/07/22
The temperature had dropped a little bit but still very warm so the captains decided on playing 15 ends. A late start as Letchworth found they only had 10 players for the 4 rinks so the game consisted of two triples and two of 3 v 2. I cant remember the scores at half time , 8 ends, as i chucked my fag packet away but it was pretty close on all of the rinks. Anyway after a lovely hot cup of tea, we finished the game with 3 rinks going to the last end before finding the winner. the score at the end of those were 14-15, 16-15 and 13-13 so all pretty close but we won comfortable on the other rink to give us a win 59-50 which gave us the double over Letchworth as we had beaten them at home earlier. A special mention to Tony, Tricia and Judith who were losing by 4 shots on the last end but managed to get the draw.
Game v Hitchin 11/07/22
Well by now the heat wave was continuing so this game was postponed due to the heat.
Game v Shephalbury 07/07/22
A bit cloudy to start but by the 2nd 9 ends it was really hot, however the game finished in an icy atmosphere so nothing to be said really. Final result lost 33-50.
Game v Whitethorn 06/07/22
On a lovely day for bowls , we fielded 3 triples as Whitethorn were a bit short. I was the Captain for the day with my 100% record at stake, Yes I had never won a game as Captain. At the Halfway stage we were winning 27-18 with only one skip losing at that stage, Yes it was me. However the tea must have made a difference because we ended up winning on all three rinks with the final score being 57-34. My first win as Captain !
Game v Howard Gardens 02/07/22
A Saturday game for a change but it didn't change our fortunes as again we lost on all 3 rinks. Again a comeback by Simon, Trish and Paul who were losing 12-6 but came back to 15 all but again lost the last end by 2. A positive note, Simon who has been struggling with his back played and it was nice to have him in the fold again.
Game v Sandy 30/06/22
Sorry to report but a loss on all three rinks, even though we beat them at there place earlier in the season. Best performing team were Brian and Jeff who were losing 12-3 but came back to 17 all, only to lose by 2 shots on the last end.
Game v Buntingford 29/06/22
Well after 6 games without a win, we finally won one. Lynne's Captaincy must be the key (or me not playing) as we won on all 4 rinks At half time the score were quite level but we stepped up a gear in the second half to win easily. Not quite a Basil but Paul's team were winning 21-9 on the last end, when there skip took the jack and got 7 shots. Phew was close then.
Game v Royston 24/06/22
The weather couldn't make its mind up today as on a cloudy afternoon we managed to lose again. It did stay dry apart from 36 spots (That i Counted) but again we couldn't get a win. At Tea we were drawing on three rinks and losing on one, so pretty close. At the end however this all changed and we lost on all four rinks but the biggest losers were Basils Team who leading 17-10 on the last end and managed to lose by 9 shots. Basil said he couldn't believe it as he had been bowling well all day. Its a funny old game. Final score lost 51-77.
Game v Stotfold 20/06/22
On a fine sunny afternoon. Actually a bit to hot as three matches only played 15 ends because of the heat and the fourth 18 ends. Well a good and enjoyable afternoon but we ended up losing 54-67.
Social Evening 14/06/22
Hospice Charity Evening. Lynne organised this and it was a lovely sunny evening with the game being 6 teams with 3 games of 4 ends, so 12 ends in total. The first two ends being bowled by your normal hand and the next 2 ends with the opposite hand, so some stray bowls being bowled here ! But everyone enjoyed it and the winning teams were Robin's and Andy's team , both finishing with 17 points. The spider was won by Simon but the real winners were the hospice as we raised a good amount of money for them. Final amount to be advised. A Big thank you to Lynne who organised the evening and all the helpers. Update The Final total raised was £204 for the Hospice. Well done Lynne and everyone who contributed.
Game v Melbourne 13/06/22
This is a half time report so full result to follow. As the players went in for tea we were losing by 10 shots, which is good as the difference was a lot bigger earlier in the Game. Lets hope the improvement continues in the second half. Update. Well a slight improvement in the second half as we only lost by 2 shots so ended up losing by 12. Final score 53-65.
Game v Welwyn and District 10/06/22
Well what can i say about this game. As i said below with the strongest team available against Shepalbury my predications are not always right. However today, A nice sunny day, and ideal for Bowls plus with Paul as Captain it was bound to be a win. At Tea this was looking good as we were winning on 3 rinks with me being the only losing skip on the Other. So at tea we were winning by a massive 16 shots so my prediction was looking good. Not sure what happened but instead of doctoring the oppositions tea, i think we must have doctored our own as the game ended with a 7 shot loss. 67-74. What a turnaround. I think i will no longer predict the future !
Game v Shepalbury 09/06/22
Still looking for my first win of the season as Captain, we played Shepalbury with the strongest team i have ever fielded as Captain so obviously it was going to be a win for us. Unfortunately Shepalbury hadn't read the script and were leading 28-47 at tea time, when we stopped for a lovely cuppa and some superb home made biscuits made by Sue Douglas. Unfortunately the biscuits didn't help and we ended up losing 58-84 , so a good hammering. Basil's Rink managed a win but the rest of were well beaten. I should add that Shepalbury were a very friendly side so a very good afternoon, even though we lost..
England International
Congratulations to Peter Moss who represented England in the Over 75;s Walking Football Tournament. Peter Scored England's goal in a 1-1 draw but you could tell it was England as we lost on penalties
Reapperance
It was good to See Jim Mustoe back on the green for a roll up on Monday after his illness. Lets hope he gets back to the Jim we love !
Competitions 2022
Well with the improved weather the competition have started taking place. Results up to date as of 09/06/22
Jubilee Party 02/06/22
We ordered lovely weather for this and were happy to accept it on a nice sunny day.
Brilliantly organised by Tony Glenn. We started off with our own Sarnies and drinks accompanied by a royal version of dingbats, Which was fun and won by Chin and Simon Tory, This then meant Chin had to choose the best dressed person and that honour went to Gill Crane who looked very Royal. We Then raised our glasses to Her Majesty the Queen, followed by 3 loud cheers. After this we had a good old sing song of Royal Themed songs along with a superb karaoke sheet that Brian and Linda organised. The following is a clip of us singing Land and Hope and Glory.
Just Click on it to see !!!!
Game v Datchworth 01/06/22
Unfortunately this game has been cancelled as Datchworth cannot field a team.
Dorothy's Tree Unveiled 27/05/22
A good gathering were at the club as Dorothy's tree was unveiled at a very sunny bowling green. Her family, Bowlers, old and new, and the theatrical group she was part of , amongst others, joined together and following a speech by Chairman Brian a Toast was raised to her memory. Her family then unveiled the plaque ensuring that Dorothy will never be forgotten.
Game v Three Horseshoes 26/05/22
I don't have a lot of details on this but believe we won 2-1 on the rinks but overall we lost 52 to 44 but its seems like it was an enjoyable game.
Game v St Ippolyts 25/05/22
Unfortunately this game has been cancelled as St Ippolyts cannot field a team.
Game v Steeple Morden 20/05/22
After a Rainy morning the weather improved for this fixture to take place with Robin as Captain. We won on four rinks and looks a convincing victory with a final score of 72 to Steeple mordens 47. This just leave Captain Andy to win a game !!!
At this game Basil was wearing the latest fashion accessory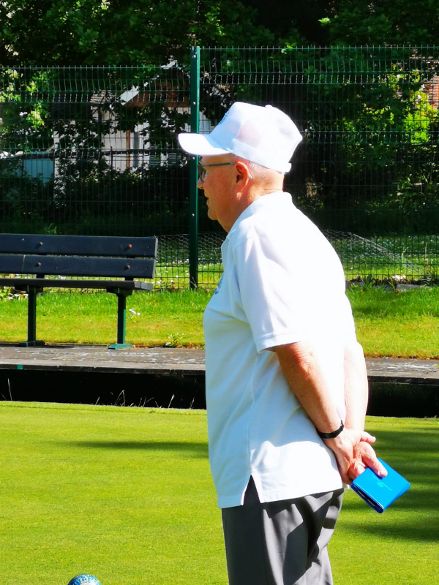 Game v Sandy 19/05/22
The weather was not not as warm as the previous day but pleasant enough to have an enjoyable game against Sandy. 18 ends were played on the trot with no break for tea so it made it a long game. I'm not sure of the score after 9 ends as we didn't stop but we carried on under the captainship of Paul Riseborough and won 74 to 56. We had won on two rinks , drew on one and Paul asked me to mention that the only skip to lose was him ! Afterwards our hosts offered us a drink which was gladly accepted to round off and enjoyable afternoon.
P.S. On relection I think Paul must have said don't mention he lost !!!!!!!!!
Game v Letchworth 18/05/22
We had wonderful weather for our game against Letchworth who had made the long trip from the green next door. At half time when we stopped for tea and biscuits we were leading by 7 shots. The second half saw us hold on the lead and we finished up winning the game 66 to 58 so our first win of the year under Captain Lynne Brown.
Social Evening 17/05/22
On a nice sunny evening we played a game of target bowls, the same as target golf but with two jacks worth more points the further away. We had 6 teams 3x 4's and 3 x 3's. After the initial confusion of whats happening it seemed to go down well the the players. The winners were Brian H, John Wiggs and Roy. I'm not sure if there is some kind of , let the chairman win feeling going about, but its the second social evening he has won on the trot ! Following this we headed inside for a ploughman's lunch even though it was evening time. At this point I have to thank Ruth for preparing and Sue and others for helping. Afterward we played a quick game of stand-up Bingo to hopefully cap off an enjoyable evening.
Game v Riverain 05/05/22
Well our second game of the season and the weather was nice dry and sunny. We had a nice half time break of tea and biscuits but that's about all the good news as the bowling didn't go quite so well for us as we lost on all 4 rinks and ended up losing 42 to 68. So no wins for us out of 2 games so far
Game v Holwell 04/05/22
Well the season finally started and both teams seemed eager to get back to bowling
and after a few ends we were slightly in front. The weather was sunny/cloudy and made for an enjoyable 1st 9 ends. Holwell had staged a fight back and after 9 ends
were winning 33-30 so a very close game. Following Tea, expertly made by Chin and Simon, back out we went to a very dark sky with a few drops of rain. A few woods later and the heavens opened so with the rain lashing down, we headed for the clubhouse. After another 10 minutes with the rain still falling and thunder echoing around, we decided to call it a day. A great shame really as the bowling was really enjoyable, especially against a very friendly Holwell team.
Roll Ups
The 1st and 2nd Bowl up have taken place . It must be bowls weather as we had Hail stones at the 1st one !
1st Social Evening
Robin organised the first social evening and 6 teams of 3 competed in a little tournament. The winners were Our Chairman Brian Hutchings, so no fix here then !, John Ramsey and Roy Andrews who won with 27 points, 1 point ahead of the 2nd placed team. 3rd with 24 points (I Think) and three teams tied for 4th place (Ot Last !) with 21 points. This was followed by some lovely Sausages in rolls and some cake that was delicious. Thanks to Tricia, Mike , Jan and Sue. An enjoyable evening so thanks to Robin for organising
As I type this it is now only 1 day to our next fixture v Riverain, so hopefully i will get time to put match reports on here soon.
Well the season is nearly here and by now everyone should know the fixtures they are playing in and the competition draws having been made as well so everyone should be now getting excited about the season ahead.
The Pre season clean up is at 1000 this Saturday , so pop along if you can spare an hour or two
Following on from that we have our first bowl up , quickly followed by our first fund raising evening, By Now you should all have seen the emails , so please get in touch with Robin to let him know if your attending.
The draws are now available on the website so have a look at who you are playing this year.
Anyone with any ideas for website please let me know. Cheers Andy